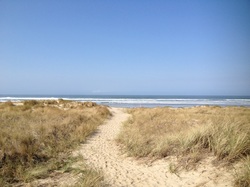 Hello again, I mentioned several weeks ago we would be launching into a few posts related to the services and offerings we provide at Music Journey, LLC. The aim is to provide some simple and honest information and explain what we believe and how we collaborate with people. So, here is the second in our series, this one focusing on our Expressive Arts Therapy services.
First off let me make this a bit simple before I go into the more colorful descriptions. Simply put expressive arts therapy is the artistic layering of multiple arts with the intention of being of help or service to a person or person(s). For instance one might move from singing, talking, or listening to a song, then add a movement or draw a picture inspired by that song as a way of expanding and focusing toward the image, ideas, and the deeper meanings for the person(s) involved. In many ways this is deep personal awareness practice with an artistic lens.
Next, I want to discuss a few values that I bring to my work as an expressive arts-therapist/helper. Specifically, the values I hold important in my expressive arts therapy practice. These include co-creating a studio experience, encouraging mindful play, and focusing on beauty.
Play in the studio brings growth
As I work with people in expressive arts therapy I imagine that we are co-creating a studio, this is an intention that I bring from my many years of collaboration with my close friend Jena Leake, PHD, REAT (
www.jenaleake.com
). Through Jena I have learned ways to infuse the expressive arts therapy process with intentional and contemplative elements that create a personalized studio experience for the person(s) that I am working with. To me a studio, is a place where the artist-person dives deeply past the roadblocks, struggles, and difficulties into a rich inner place of their own resources and self-compassion. This studio space can be a place for the client or artist-person to really find their own answers and help regarding current stressors. Over the years, I have witnessed client's come away from the expressive arts therapy experience with new stories, actions, and hopes for their lives.
Mindful play
Another value for me in my work as an expressive arts therapist is that of mindful play in the arts studio. To me the act or the action within the arts studio space or session is very important. Actions through and with art are some of the fibers that weave through out expressive arts therapy work. The arts actions a person takes are directly connected to goals and benefits that are discovered during the expressive arts therapy experience. When we cultivate an arts space that is a place where the arts play has an intentional and present focused orientation. Mindful play can allow someone to let go of the pressures to get things right or open up an opportunity to try some new act or role. This type of mindful and playful experimentation appears to give people a real chance for growth.
The Beauty within
The last value we will explore is that of beauty. I believe attending to beauty is at the center of my practice as an expressive arts therapist/ arts helper. Specifically, by taking this focus in the therapy or educational encounter, we focus on the art and the experiences that we are having interacting in the arts. This focused attention to the beauty of the art allows some expansion and can lead to the experience of gaining fresh knowledge and new perspectives on a current life struggle. During the expressive arts therapy process, I begin to understand my client as an artist-person, I begin to catch a glimpse of their beauty. It appears that as a person's beauty develops in the expressive arts therapy studio, the person's thoughts, emotions, and actions begin to expand in their life. As a person's beauty grows, we begin to see the person's totality, their uniqueness, their skills, their knowledge, their stories, and their hope. As a person grows and enacts their own beauty new possibilities in life can open.
For those of you readers who are interested in expressive arts therapy credentialing and the growing profession of expressive arts therapists, you can find out more at the International Expressive Arts Therapy Association (IEATA,
www.ieata.org
). The IEATA site contains further information on expressive arts therapy and IEATA as an organization of artist-therapist, artist-consultants, and artists. I hope this post provides information to any interested web-browsers out there and specifically to those people who are interested in how we at Music Journey, LLC work in the expressive arts. Please feel free to send me an e-mail if you have questions or have interest in how expressive arts therapy could help you or someone you care about.
Thanks for your continued interest,
Aaron